QUESTIONS
P.O. Box 631 Station A
Toronto, ON, M1K 5E9
?
Social Media Directory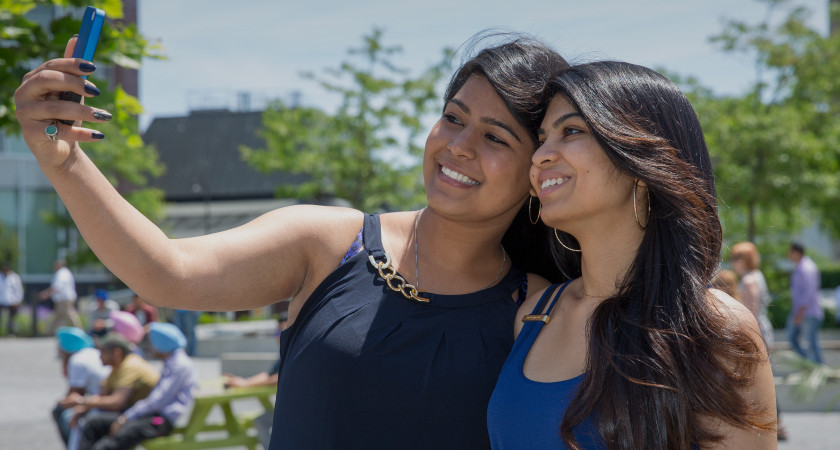 Welcome to the Centennial College Social Media Directory. Find and follow social media channels from across all five campuses. Connect with members of our Centennial community and keep updated on your faculty, campus, sports clubs, and more.
Do you have a Centennial-related social media channel that should be included in this Directory? Please register your account with this Social Media Online Registration Form.
Main College Channels
---
Academic School Channels
| | | | | | |
| --- | --- | --- | --- | --- | --- |
| Advancement | | | | | |
| Business | | | | | |
| Community and Health Studies | | | | | |
| Communications, Media, Art and Design | | | | | |
| Engineering Technology and Applied Science | | | | | |
| Hospitality, Tourism and Culinary Art | | | | | |
| Transportation | | | | | |
---
Centres and Institutes
Applied Research, Innovation, and Entrepreneurship Services Channels
| | | | | | |
| --- | --- | --- | --- | --- | --- |
| Applied Research and Innovation Centre | | | | | |
| Centre of Entrepreneurship | | | | | |
| Accelerator for Centennial College Entrepreneurs and Leaders | | | | | |
| Wearable, Interactive and Mobile Technologies Access Centre in Healthcare (WIMTACH) | | | | | |
---
Service Channels
| | | | | | |
| --- | --- | --- | --- | --- | --- |
| Athletic & Wellness Centre | | | | | |
| Centennial Bookstore | | | | | |
| Centennial Libraries | | | | | |
| Centennial Residence | | | | | |
| Centennial College Student Association Inc. (CCSAI) | | | | | |
| Centennial College Event Centre | | | | | |
| The Local Restaurant | | | | | |
| Student Association Spa Services (SASS) | | | | | |
| Life Safety and Security | | | | | |
---
All other Channels
| | | | | | |
| --- | --- | --- | --- | --- | --- |
| Alumni | | | | | |
| Centennial Ambassador | | | | | |
| Centennial Colts | | | | | |
| Colt Learning | | | | | |
| Community Development Work Program | | | | | |
| Centennial Enactus | | | | | |
| Global Citizenship Education & Inclusion | | | | | |
| Interactive Media Management | | | | | |
| International Centre | | | | | |
| Kids Media Centre | | | | | |
| Police Foundations | | | | | |
| Public Relations | | | | | |
| Recreation and Leisure Services Program | | | | | |
| Centennial Leader Shape | | | | | |
| Strong Girls Strong Women | | | | | |
| Centennial Today | | | | | |
| Toronto Observer | | | | | |
| Centennial Journalism | | | | | |
| Careers and Co-op | | | | | |
| Centennial Mens Basketball | | | | | |
| Centennial Theatre | | | | | |
| Centennial College Women's Basketball | | | | | |
| Centennial Dance | | | | | |
| Centennial Music | | | | | |
| Centennial Music | | | | | |
| Centennial College Campus Recreation | | | | | |